KFNL's main work and calling is our Circle of Health & Hygiene. However, occasionally we see an opportunity that closely aligns with our vision of changing the future for girls in Uganda and we work toward a one-time goal.
2023 Special Project:
English Bibles for Schools/Students – Complete!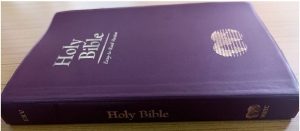 We always receive requests for English bibles. The goal of educating the whole child- body, mind & spirit, is the focus of all our schools. We would like to provide an English bible for the older students and the staff at each school. These students are learning to speak English (the language of business in Uganda) and also growing in faith. Few of their homes could ever afford the luxury of a bible. We believe these will be treasured and most importantly, that they will be read!
Our goal is to supply 1440 bibles…that is a lot of bibles! At a cost of $7 each that runs up to $10,000. Some generous and enthusiastic donors have offered a $5000 matching gift toward this goal. Wow! Would you consider a year-end gift (that will be doubled!) to put bibles in our partner schools and children's hands?
---
2022 Special Project:
Brilliant Primary School Classroom Building – Complete!
Brilliant Primary School's motto is: We train the whole child. the body, the mind, and the soul.  This school has grown dramatically in a very remote area among tea plantations.  This school truly brings hope and opportunity to their entire region.  Children here often do not go to school.  Four of their classes currently meet in these wooden classrooms, where rain and wind can cause major disruption.
KFNL has decided to work to build a four-classroom building to strengthen this school and improve educational opportunities for the girl-child.  A generous donor is underwriting the school building.  Please consider helping us to furnish the classrooms with a gift towards desks and chalkboards.
Scope of Project:
Foundation
$8,900
Walls
$7,900
Roof
$10,100
Doors/Windows
$4,900
Plastering
$3,700
Painting
$2,400
Total Building Estimate
USD $37,900
Desks for 4 students at $50/each x 110
$5,500
Concrete Chalkboards $74/each x 7
$518
Total Classroom Furnishings – FULLY FUNDED !
USD $6,018
Project Total: USD $43,540
Brilliant Primary School Classroom Building 2022 Update
Completed Projects:
KAMULI House: Complete!
This three-room house is located 100 feet from New Life Primary School.  "Kamuli" means little flower and is a term of endearment.  The house has its own latrine and a water tap outside (a great benefit).  It has enough land to grow vegetables for the school, and has a productive mango tree.  Originally, the goal was to house ten girls who live too far to walk to school or who are orphaned, but the needs are so pressing in this community that we are working to add another room to the house so that a total of 30 girls at high risk of dropping out of school will have a safe place to live and continue their education.
Costs of Kamuli House Project:
House and land
$8,800
Repairs Needed
$580
Addition of large room for girls
$3,440
Beds & mattresses for 30 girls
$2,350
Latrine / Bathhouse renovation
$1,075
Total for Project
$16,245
Kamuli House project photos: