KFNL's popular fundraiser! 100% of net proceeds from ASANTE sales fund our Circle of Health & Hygiene programs at our partner Ugandan schools.
KFNL's popular new fundraiser! 100% of net proceeds from ASANTE sales fund our Circle of Health & Hygiene programs in Uganda.
ASANTE products are available at KFNL events, a number of public markets listed in our Event Calendar in Western North Carolina, and at these lovely shops.
| | | |
| --- | --- | --- |
| | | |
| Fairview, NC | Horse Shoe, NC | Fletcher, NC |
| | |
| --- | --- |
| | |
| Asheville, NC | Fairview, NC |
Direct personal orders can be placed via email for purchases of $75 or more.
12oz Soy Candles with bronze lid $22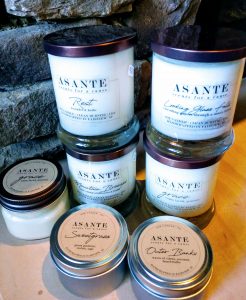 Small mason jar 6oz soy candle with Rustic lid $14
5oz Travel tin soy candle $12
Clean-burning soy candles with cotton wicks and phthalate-free fragrances. Soy burns 30% longer than paraffin and is sustainably sourced from American farmers. The finishing touch to any room in any season and a great gift idea.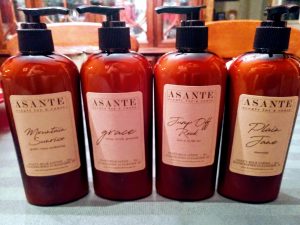 9oz Goat's Milk Lotion $14
Our Goat's Milk Lotion has a luscious, milky consistency that differentiates it from other lotions and has been formulated to drench the most sun-damaged and dry skin with moisture. The skin is left feeling young, soft, and smooth. Goat's milk contains plentiful amounts of alpha hydroxy acid, Vitamins A, B6, B12, C, E, and minerals, making it a quintessential nourishing and regenerative formulation – deep absorbing and nourishing! Paraben-free!
In addition to the immensely beneficial goat's milk, other nourishing ingredients and organic extracts have been included to enhance this lotion: Aloe Vera, Oat Bran Extract, Orange Peel Extract, Rice Bran Extract, Rosemary Leaf Extract, and Sunflower Extract. The Goat's Milk Silky Body Lotion Base contains caprylic/capric triglycerides derived from coconuts. The caprylic/capric triglycerides are excellent emollients that create a barrier on the skin's surface that helps decrease the loss of moisture. People keep coming back for this lotion, it's fabulous. We offer it "Plain Jane," unscented too.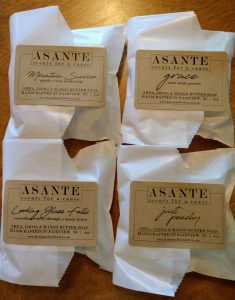 Triple Butter Bar Soap $6
Blending luxurious shea, cocoa, and mango butters, this soap base is specially designed to nourish and cleanse the skin. Mango and cocoa butter are renowned for their restorative moisturizing benefits, while the soothing power of shea butter provides a pleasant finishing touch to this base.
Vegetable-based
Free of parabens
High foaming
Excellent moisturizing properties
High in vitamins E, D, and provitamin A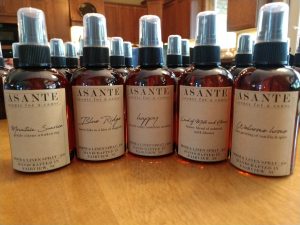 Room/Linen Spray 4oz (not recommended for shipping) $8
This spray is amazing. We had tried other companies room spray bases, but they didn't provide the consistent quality and perfect mist this one does. It provides instant fragrance and long lasting scent for bathrooms, bedrooms, linens and is also body safe.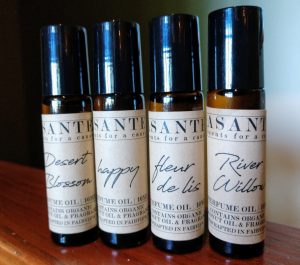 Roller Perfume Oil $12
Popular personal scents in a base of organic fractionated coconut oil. 10ml glass roller bottles.
All items are subject to price change and availability.  Scents change seasonally, please contact us to inquire about products.