MEET HOPE PRIMARY SCHOOL
July 20, 2017
Adding our third school in less than a year is simply beyond our wildest dreams! Let me introduce you to Hope Primary School Busoro and you will understand why KFNL is so excited to add them to our partner schools.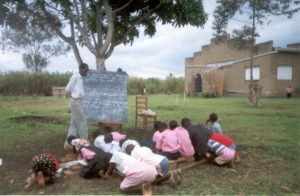 Once upon a time in 1996, a faithful teacher named  Christopher Mwesigye gathered under a Mango tree with a blackboard and 16 students. The very first Hope Primary School classroom! It was a humble beginning, but a beginning built on a foundation of great faith. The back side of New Life Presbyterian Church is seen in the background.
This is a dedicated teacher with students eager and grateful to learn. Word got out and things grew fast in this rural area where poverty, HIV/AIDS, and lack of opportunity are the norm. By 2000, the original wooden building and furnishings for Hope Christian School show quite a step up from the Mango tree classroom and it is obvious Hope Primary is on its way.
Somehow, a connection was made with people from Covenant College here in the US and in 2002 five new buildings and furnishings for Hope Primary  School were built and furnished – and filled up with students! Chris Mwesige in now Headmaster of a large school, striving for excellence.
HPS has continued to grow and follow its mission to bring excellence in education to an area where that is rare. In 2013 : "Hope school was the 6th out of the 214 schools in the district. At the national level out of the 7000 primary schools in the entire country of Uganda, Hope School was the 339th. This special blessing has boosted the morale of all teachers at school." ~ Pastor Sam Kasule, overseer of HPS. Wow! They are making great impact while under-resourced with an unreliable water supply due to drought, and especially have specific needs to improve basic health and hygiene right now!  So with their long and faithful work and consistent vision to improve the lives of children in Busoro, Knickers for New Life feels they are the perfect fit for our THIRD school!
KFNL has officially worked out our Memorandum of Understanding regarding the scope and accountability of the projects we will do in partnership with HPS.
The first money transfer went in mid July,2017 and they are already hard at work on the new emptiable girls latrine. They have formed an oversight committee.We are honored to co-labour with these wonderful people and excited to see it all come true. Latrines for girls and boys, Tippy-tap handwash stations (had none), Soap (had none), knickers, MakaPads, and the vital, life changing and saving Health and Hygiene education will all be addressed.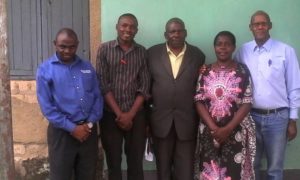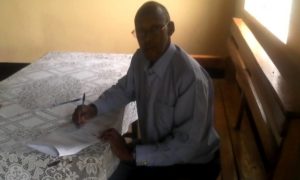 So out with the old latrine …
Thank you for all your encoragement and generous giving to make this a reality, I am blown away to think of all that has happened in 9 months! It is a humbling privilege to serve as the bridge between you and school kids in western Uganda, who can be impacted greatly by our work.
Deeply grateful,
Watha Kollmeyer