In the News: Knickers for New Life ministry giving hope to girls in Uganda
November 10, 2017
KFNL was featured in an article on BlueRidgeNow.com:
By Amy B. McCraw Times-News Correspondent
Posted Nov 10, 2017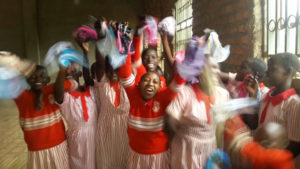 Typically, Watha Kollmeyer witnesses a combination of amazement–soon followed by a desire to help— when she tells people that girls in Uganda often remain locked in poverty only because they lack underwear and access to sanitary supplies.
Knickers for New Life (KFNL) is a ministry Kollmeyer founded about a year ago that gives residents of western North Carolina a chance to help girls in Uganda through proceeds from jewelry sales and jewelry-making workshops. All funds raised are used to buy girls in the poor African country the supplies they need to stay in school.
"In just over a year, about 500 people have participated in some way," Kollmeyer said of KFNL. "I believe it is successful because it is so relatable, so human. One of the most common responses I hear is, 'I just absolutely never thought about this before.'
"Upon learning that lack of underwear and sanitary supplies stands between a girl and her education, people have responded generously and already the impact is beyond anything I ever thought might happen."
There are several opportunities to support KFNL through events the organization is presenting at Grace Blue Ridge Church. After services on Nov. 12 and 19, jewelry will be available to purchase. Also, a Big Bead workshop will be held at the church from 9 a.m. to 7 p.m. on Nov. 17 and from 9 a.m. to 2 p.m. on Nov. 18. No registration is needed and the workshop, which has a casual "come and go" format, is open to the public.
A registered nonprofit, KFNL is partnered with HELPS ministries in Asheville. The ministry works with schools in Uganda to raise money for improving the health and hygiene of girls who attend the schools. It costs only $29 to buy underwear, sanitary pads and soap for a girl for one year, according to Kollmeyer.
"Our particular focus is on things that will keep girls in school instead of becoming child brides/teen moms, which is the norm in this area," she said. "We provide knickers (underwear), sanitary pads, separate latrines for girls and boys, handwashing stations and soap, and a curriculum to teach about puberty for both girls and boys, menstrual hygiene management and proper handwashing techniques."
Kollmeyer has traveled to Africa several times over the past 16 years. During her travels, she learned that less than 38 percent of girls in Uganda complete grade school, often because they lack underwear and sanitary pads.
"I felt personally challenged to do something for girls who have no options in life, just because they are girls," she said. "I never wanted to start a nonprofit. I searched long and hard for one addressing the specific needs of under-resourced girls in Western Uganda. When none could be found, I moved forward."
While in Africa, Kollmeyer was challenged to use her personal talents to help people rather than simply donating money. The beads and jewelry making supplies sitting unused in her closet for the last 10 years immediately came to mind.
Kollmeyer decided bead workshops and jewelry sales were a way to bring people together and to raise awareness about the needs of girls in Uganda.
The bead workshops are multi-day events that feature more than 100,000 quality beads and all the tools needed to make the custom jewelry. Kollmeyer described the workshops as "come and go" events that accommodate various schedules. All the net proceeds from the workshops go to KFNL projects.
Brandi White, director of women's discipleship at Grace Blue Ridge, said she fell in love with the KFNL ministry after attending a bead workshop in Asheville. She decided to bring a similar workshop to Grace because KFNL offered a creative approach to addressing such an important need.
White said she was aware of some obstacles facing girls in Uganda, including poverty and early marriage. But it wasn't until she heard about KFNL that she said she understood the impact a lack of sanitary supplies has on the lives of girls in Africa.
"It had never occurred to me that something we so easily take for granted could mean the difference between staying in school or dropping out for these girls," White said. "I was drawn to the fact that this issue is one of human dignity, one that all women, religious or not, would want to support."
She said she expects 40 to 50 women to attend the bead workshop at Grace; there is no charge to attend. According to Kollmeyer, participants simply pay for what they make, which varies from $8 to $45, with most necklaces ranging between $20 and $30.
"It appeals to women of all ages. So, we have everything from preteens to great-grandmas planning to attend," White said.
KFNL provides assistance to three schools in Uganda. Enrollment, especially among girls, is now up at all the schools where girls are receiving the sanitary supplies they need to attend regularly. Schoolgirls are also learning about their bodies and how to protect themselves from unwanted pregnancy and HIV, said Kollmeyer.
"The KFNL curriculum has been transformative. Students and their teachers now learn true basic anatomy and about the process of puberty," Kollmeyer added. "Lifting the veil on this has given dignity and confidence to girls who formerly had no information. Hearing stories of the joy and new confidence of these girls is a great reward and motivator."
For more information about Knickers for New Life or two make an online donation, visit knickersfornewlife.org. Grace Blue Ridge Church is located at 109 Florence St. To learn more, visit graceblueridge.com.