Looking back, looking ahead
February 16, 2018
Highlights from 2017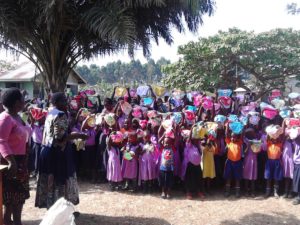 – Knickers for New Life added two more school partners: Christ School – Bundibugyo and Hope Primary School – Busoro. This added 796 more students plus staff to KFNL's Health and Hygiene projects.
-Construction of separate pit latrines for girls and for boys at each of these schools was completed and celebrated.
-KFNL Official Puberty Guide for Girls (and one for Boys too) was compiled, reviewed by medical professionals, and taught at all KFNL schools. Lots of new facts and information helped dispel myths and rumors, and also raised confidence and dignity among students.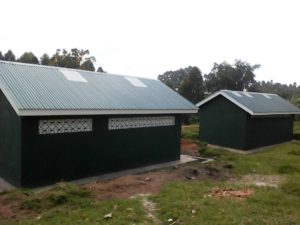 -Handwash stations were installed at all schools and SOAP was provided to schools who had none. Proper Handwash Training was done at all schools and the resultswere beyond expectations. The number of students out of school due to sickness dropped off immediately! More students healthy in class. Soap truly saves lives!
"General health at school improved greatly after these projects were initiated. The girls are more self-confident now that their health issues have been attended to, more are attending classes than before. In fact, their grades have largely improved since their menstrual hygiene issues are attended to. Teachers are very pleased with the KFNL projects and have been encouraged greatly." ~ Chris Mwesige, Headmaster, Hope Primary School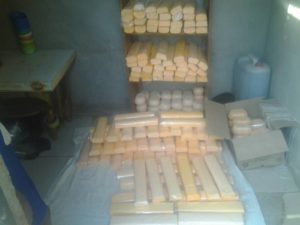 "The hygiene at the School before this project was wanting. Currently, all our children have learned the habit of washing hands especially after using the toilets and before eating food. This is a trend in the right direction regarding hygiene at our School and implanting hygienic habits in the hearts of the children at this tender age. The toilets are clean after cleaning with bleach which reduces the visits from flies which transmit diseases… I think the summary statement is that our girls feel loved. There is a sense of confidence that we see developing among our girls. Some of them had a single knicker. Others had issues getting pads. They are now assured of these and they do not need to miss a class resulting from lack of pads. This positively impacts on the performance of our children in class and participation in school activities like debate where they freely express themselves." ~ Pastor Edward & Christine Isingoma, Headmasters of New Life Primary School
Financial Recap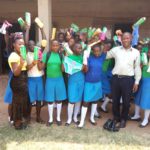 For 2017, gross sales plus charitable contributions equaled $65,000. Cost of sales for the beading and soap materials was $5,700. and all administrative and operating fees were $6,600, so net money collected was $52,700. During 2017, $28,800 was sent to Africa for latrine construction, handwash stations and the purchase of knickers, pads, and soap. The fund balance started the year at $1,000 and ended the year at $24,900. (However, $13,000 was sent to partner schools in January, 2018, for re-supply, bringing the balance back down.)
The number and variety of fundraising events throughout 2017 grew dramatically. From Camp Hollymont for Girls, Big Bead Workshops, to various speaking engagements, to Texas Womans University – KFNL was busy! Thank you for your enthusiastic support and encouragement. Without your giving, Knickers for New Life would not exist. 2018's calendar is filling up too, and the opportunity to raise awareness of the challenges faced, by girls especially, is something I love to do.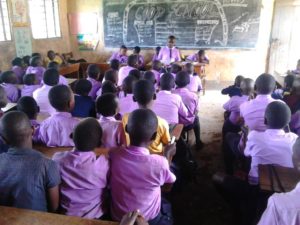 As we kick-off 2018 much is happening! We have added a fourth school, Salvation Secondary School in Hoima. This brings the total number of students in KFNL programs to near 1400. One of my biggest joys is the addition of a mosquito repellent soap to replace regular soap at all KFNL schools. Malaria and other mosquito-bourne illness is a major health issue in west Uganda. The search for this precious soap was a long road with a number of setbacks. We are currently in a two-month trial to see if this is indeed an effective repellent but early reports are encouraging.
Our hopes for this year are to increase funding by adding business sponsors and seeking grants. This is new territory but we feel it could be an important source of funding KFNL projects. If you know of any businesses or foundations that might be a fit for KFNL, please let me know. We also hope to be able to add a fifth school in 2018, as funds allow.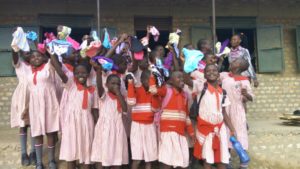 The first ever Knickers for New Life Vision Trip to Uganda is being planned for February 2019. It will consist of a small group of up to 8 people who are donors/volunteers with KFNL. We will visit each partner school, the MakaPad factory, and our new favorite soap-maker. Along the way, we will experience life in western Uganda with all 5 senses. I believe it will be a transformative trip.
YOU are vital and completely integral to each school and student we serve. Thank you for all you have contributed. $29 covers supplies to keep One more girl in school for One more year. It matters! And it is working.
Deeply Grateful to partner with you in changing the future for girls (and boys) in Uganda,
Watha Kollmeyer
Founder & Director, Knickers for New Life