Welcome, Bless the Children Primary!
June 1, 2018
Knickers for New Life is beginning a partnership with our 5th school – Bless the Children Primary located in Mabaale, Uganda. This will be our biggest project of 2018 and brings KFNL to some big new numbers.
We began in October 2016 with 178 students at New Life Primary in Hoima. Enrollment has significantly increased at KFNL schools as they become known for caring for the girl-child and having improved health and hygiene. Now with the addition of our 5th school, KFNL has 1,800 students directly enrolled in our Health & Hygiene programs. We have increased tenfold in less than two years. WOW.
Bless the Children Primary came highly recommended by other school leaders we partner with. As I interviewed them and got details of the school health situation, it became clear this would be a great place for KFNL to invest our funds and resources to make a big impact. In addition to having no sanitary pads for their girls – which was leading to high dropout rates, they also had no hand-wash stations or soap, and the latrines built 9 years ago when the school was founded are failing. BTCP struggles with malaria and diarrhea as have all KFNL schools, but they have significant cases of dysentery and typhoid as well. Truly the most challenging health crisis we have faced. The poverty is extreme with many orphans and refugees from neighboring African countries.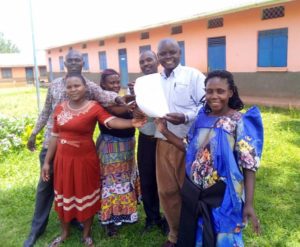 So once Bless the Children Primary formed its Leadership Team for KFNL projects and signed our Memorandum of Understanding outlining the importance of integrity and accountability, we could not wait to get started.
Pastor Francis and Head of School Richard are both eager communicators and show a great desire to see health improved at BTCP.
Getting tippy-tap handwash stations built and our new Mosquito Repellent soap to them was top priority.
Go away diarrhea, dysentery and malaria.
They also participated in Global Menstrual Hygiene Day with great enthusiasm.
This may seem beyond foreign to us. In a country where the topic is taboo and girls have no source of information on the changes happening to them or what to do about them – it's a big deal! I love that there is "No More Stigma!" Being a girl is normal. They are valuable and half the world. Raising up their dignity and opportunity to receive an education lifts the whole country, and really the whole world.
Work is beginning on the new emptiable Girls Latrine which will be properly ventilated and cleaned weekly with bleach. Go away, typhoid.
It will cost over $19,000 USD to complete all KFNL Health & Hygiene projects at Bless the Children Primary. That is a high goal, but one that is exactly why we exist. Please consider giving a one-time gift toward this school or becoming a monthly/annual supporter of KFNL. Together we are changing the future for girls (and boys) in Uganda.
Deeply grateful to partner with you,
Watha Kollmeyer
Director, Knickers for New Life