Welcome Bethany Centre Primary School!
July 26, 2019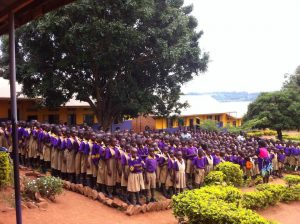 We are beyond delighted to welcome our sixth and largest school, Bethany Centre Primary.
Bethany Centre began in 2004. Peter Kiwanuka, who attended Louisiana State University in Baton Rouge, founded this school upon his return to Uganda. Peter and local leaders have worked hard to found a school with high academics for the materially poor around Jjungo.
Bethany Centre Primary has been financially supported by Bethany Centre Alliance, a non-profit based out of Baton Rouge. Bethany Centre Alliance is a community of friends partnering with a Ugandan community ministry, Bethany Centre, established to "help the local people provide for the physical, emotional and spiritual well-being of the orphans, youth and HIV patients residing around the village of Jjungo."
KFNL is absolutely thrilled to announce a new Three-Way Partnership with Bethany Centre Primary and Bethany Centre Alliance to address the extreme needs for improved health and hygiene at the school. Our Circle of Health and Hygiene programs will directly address the needs of the girl-child as well as improving everyone's cleanliness and health. Our Uganda Representative, Pastor Edward Isingoma, made an introduction visit recently and we are in the midst of launching the construction of Tippy-Taps and proper handwash training.
Edward greets Bethany Centre Primary and explains KFNL projects
Malaria is a big issue at BCPS, and is Uganda's number one cause of death. Peter Kiwanuka said simply, "Everyone in rural Uganda gets malaria!" KFNL hopes to greatly reduce the occurrence of this dreaded disease at Bethany Centre Primary as it has at other partner schools. Our Mosquito Repellent Soap, sustainably made near Kampala, has had big impact and has been celebrated at our first five schools as we learned on our February Learning Trip.
With the addition of BCPS and it's 560 students, KFNL now serves 6 schools and over 2400 students. Wow! It has been only three years since I first had the thought that 'someone should do something to help these girls.' So many of you have stepped forward in so many ways. Thank you for your financial support that buys the sanitary pads, soap, bleach, latrines, and handwash stations that have made a huge difference. Each girl (and boy) at our partner schools hears that they are valuable and should work for a future. To each of them and their families and communities, it matters. Please continue along with us as we raise dignity and opportunity for the most vulnerable.
Deeply grateful to partner with you on this journey,
Watha