Pictures Paint the Story in Uganda
September 1, 2020
Literally everyone all over the world has been impacted by the COVID pandemic.
Sadly, the materially poor are always impacted more by economic/health crises than First World folk.  The realities in Uganda are stark and challenging. Schools there are still locked down with no projected end date. There is no such thing as virtual learning at KFNL Partner Schools. Many children have been put to work in the fields or in the market place, earning whatever they can for their families. Domestic abuse, teen pregnancy, and human trafficking  has skyrocketed. Child marriage is also soaring. If you cannot feed your daughter, you might give her to someone who can. This does not mean that we can do nothing during this time.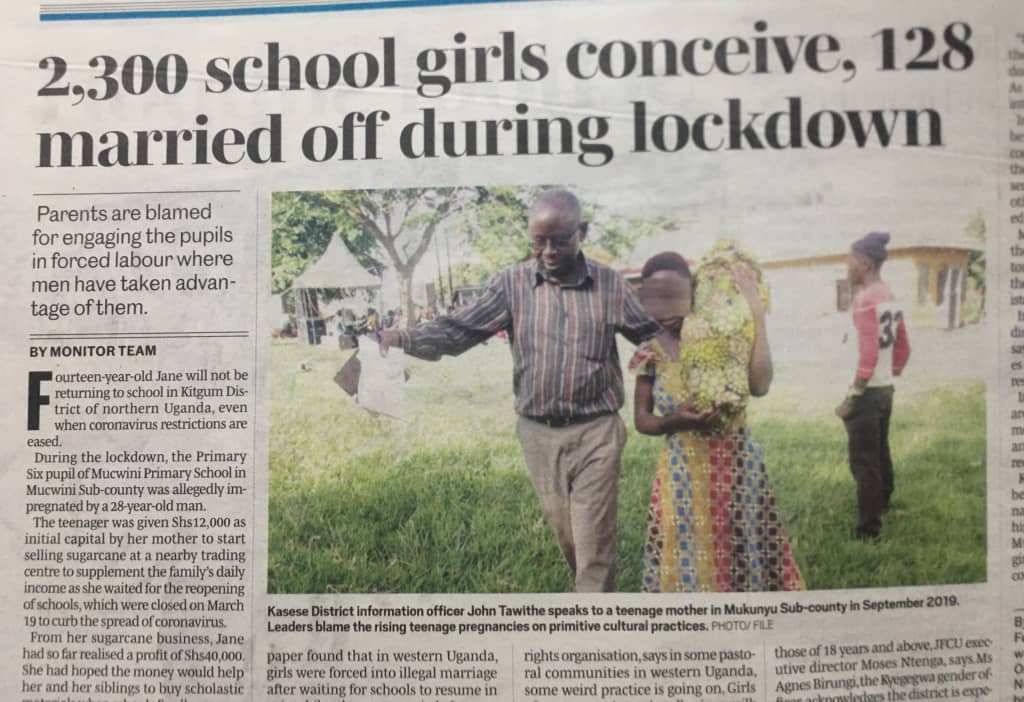 After consulting our Uganda Representatives, Pastor Edward & Christine Isingoma, the focus has been on connection and encouragement. The government there has launched a massive campaign to teach proper handwashing as the first line of defense against COVID. KFNL has been doing this since we began in 2016. Many teachers have contacted us to say that we were sent by God ahead of this crisis to equip them. KFNL Leaders at each school are still able to contact students and distribute mosquito repellent soap to all and MakaPad sanitary pads to the older girls. With each interaction, children and parents are reminded they are valued and not forgotten, that education is vital for breaking the cycle of poverty, and proper hygiene/handwashing is reviewed and encouraged. This is hard work through rough terrain done by these teachers. They are love-in-action heroes, truly Hope Super-spreaders!
| | | |
| --- | --- | --- |
| | | |
| KFNL Servant- hearted leader | Mosquito repellent soap | Proud of their Tippy-tap! |
| | | |
| Christine Isingoma, KFNL Uganda Rep, sharing love & soap | Busoro Village students | Tippy-tap at home |
| | | |
| MakaPads are biodegradable | Levi M., 6, orphaned but not forgotten | Nasura is 14, Muslim, and dreams of becoming a nurse. |
| | | |
| Head of School, Chris Mwesige, has a huge heart for children! | Soap = Hope | Joseph K., 13, wants to be an engineer. He built this little house. |
| | | |
| | Teenagers! | Parents deeply appreciate KFNL's work. |
Looking through just a small sample of the pictures that have poured into me in the last few weeks reminds me, "they are real." As I see their beautiful faces, their homes, and consider their circumstances, I desire to do something however small to give them hope and keep them looking forward to returning to school. Don't you feel the same way? Would you join me by giving whatever you are able or even becoming a ChangeMaker by setting up monthly giving?
Deeply grateful to be spreading hope along with you,
Watha Kollmeyer